Description
God Save The Queen 17 cm piramide orgonite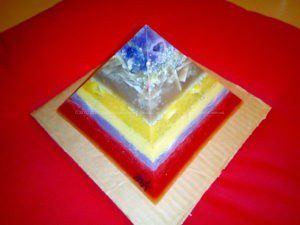 SHIPPING VAN HOLLAND – DELIVERY FROM THE NETHERLANDS.
God Save The Queen 17 cm piramide orgonite is een 17 cm zijde piramide orgonite. Gedaan in bijenwas met metalen,  een Lemurian Bergkristal en vijf bewerkte amethist kwarts en blauwe sodaliet aan de bovenkant.
Deze piramide heeft ook een grote celestien in het midden.
Deze piramide orgonite is een uniek item, gedaan door gebruik te maken van meerdere unieke items, zoals mineralen zijn.
Deze piramide orgonite wordt met de hand gemaakt, is uniek en ik zal deze ook niet meer maken.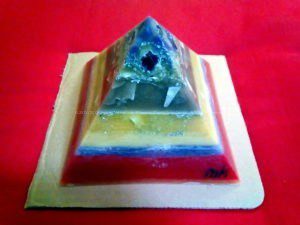 Mijn Orgonite wordt geproduceerd volgens verschillende principes, meer dan op basis van het wetenschappelijk werk van Wilhelm Reich. Ook zijn er deze die verband houden met holistische en wetenschappelijke disciplines die nog steeds niet officieel erkend zijn. Allereerst aromatherapie. Het gebruik van bijenwas, dat wordt gedaan van etherische oliën maakt mijn orgonite zeer geurend, vooral wanneer het wordt gebruikt voor meditatie en wanneer je het wast met koud water en zeep. Ten tweede kleurentherapie. Mijn orgonite hebben kenmerken als stenen, geuren en kleuren. Dit verwijst naar orgonite in alle categorieën, behalve de piramides die uniek zijn. De piramides hebben een verscheidenheid van kleuren, waardoor u de keuze kunt maken van de kleuren die meer geschikt zijn voor uw behoeften, affiniteiten en aura kleuren. Ten derde het gebruik van radionica voor beide vormen door interne dispositie van mineralen en metalen en uiteraard met de vorm van intentie tijdens de fase van verwezenlijking. Zelfs het inbrengen van je aura energetische voetafdruk is belangrijk, maar uiteraard is dit niet zo eenvoudig als het schrijven ervan. Het zingen van de mantra OM tijdens het produceren wordt ook gebruikt om mijn orgonite te bezielen met een vibrationele inprenting.
 Marco Matteucci aka Marek Sheran