Description
Orgonite Heart  Shine

Shipping from Holland  – Spedizione da  Olanda
Orgonite Heart Shine is a beauty orgonite heart art, with orange calcite.
Orgonite Heart Shine  is an orgonite you can use everywhere, home, office, on your desk, tables and almost in any place. Orgonite Heart  Shine is an orgonite you can gift to anyone you love, including yourself, to make happy who you take care about. Orgonite Heart  Shine  is an orgonite that having a low cost, remain an art product, done by hands, one by one, and ever including essential oils, incenses and other products to ever give nice flavour also.
Orgonite Angelite  heart yet won a honorable mention to an art contest december 2014. You can find hundreds of orgonite hearts done by plastic, things of no value from art point of view, because chain production, and neither have value as orgonite, because plastic isolate energy and also the babies know this. Maybe Orgonite Heart  Shine  will win next.
Chips of coloured quartz  also on the top of the hearts, as you can see in pictures and gallery, is a lovely thought to gift to your friends also, this Orgonite Heart  Shine.
Orgonite Heart  Shine  are only 17 units, and anyone is a little bit different from the others, for colours and composition of minerals on top, this to have an orgonite that is in fact unique.
Orgonite Heart  Shine  can be bought with other things you desire (a pyramid ?) , because is possible by a single one.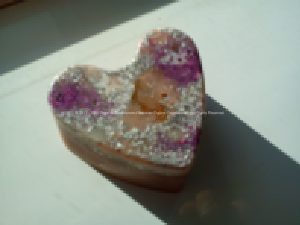 CRYSTAL MEANINGS AND METAPHYSICAL PROPERTIES LORE   OF ORANGE CALCITE
Keywords: Emotional Healing
Orange calcite is a stone that is particularly helpful mentally. It can relieve emotional fear, mental breakdown, depression, accidents, rape, divorce, suicidal thoughts. It is particularly helpful with phobias. Orange calcite restores mental and emotional equilibrium.
Orange calcium can also give a gentle boost to psychic abilities and intuition.
Physically, orange calcite is helpful for the reproductive system, genitals, intestines, irritable bowel syndrome, kidneys, chronic fatigue, calcium intake and assimilation. It is also used for balancing sexual energies.  Note that healing crystal meanings are spiritual supports to healing and are not prescriptions or healthcare information.
Orange calcite is associated with the sacral chakra.
http://meanings.crystalsandjewelry.com/orange-calcite/
Orange Calcite
Orange Calcite helps integrate the spiritual realm with the physical body, enhances creativity, and is helpful when working with emotional issues. Use Orange Calcite to energize and cleanse the lower chakras. Orange Calcite works especially well with the Sacral Chakra to enhance the will and remove depression. Working with Orange Calcite can bring higher insights from the upper chakras down into the lower chakras for processing so they can be used in a more instinctual way without needing extended thought.
Meditating with Orange Calcite can bring insights into the causes of apathy or lethargy, allowing one to take back control over one's life. Orange Calcite's vital energy can serve as a catalyst for the release of past traumas that have been holding you back, allowing for optimism and joy to come in. Those experiencing depression will benefit from Orange Calcite's infusion of bright vibrations into the lower chakras.
Physically, Orange Calcite helps with urinary tract disorders; liver, spleen and kidney function; incontinence; sexual dysfunction, and chronic fatigue.
http://www.healingcrystals.com/Orange_Calcite_Articles_123.html
EnjoyOrgonite Heart  Shine  for you and persons you love.
Do you Ganoderma Lucidum (Reishi) mushrooms and it's benefit to the health ?
Anyone would be interested also to buy products with Ganoderma Lucidum (reishi) mushroom can just follow this link.
http://mareksheran.myorganogold.com/it-it/
Mijn Orgonite wordt geproduceerd volgens verschillende principes, meer dan op basis van het wetenschappelijk werk van Wilhelm Reich. Ook zijn er deze die verband houden met holistische en wetenschappelijke disciplines die nog steeds niet officieel erkend zijn. Allereerst aromatherapie. Het gebruik van bijenwas, dat wordt gedaan van etherische oliën maakt mijn orgonite zeer geurend, vooral wanneer het wordt gebruikt voor meditatie en wanneer je het wast met koud water en zeep. Ten tweede kleurentherapie. Mijn orgonite hebben kenmerken als stenen, geuren en kleuren. Dit verwijst naar orgonite in alle categorieën, behalve de piramides die uniek zijn. De piramides hebben een verscheidenheid van kleuren, waardoor u de keuze kunt maken van de kleuren die meer geschikt zijn voor uw behoeften, affiniteiten en aura kleuren. Ten derde het gebruik van radionica voor beide vormen door interne dispositie van mineralen en metalen en uiteraard met de vorm van intentie tijdens de fase van verwezenlijking. Zelfs het inbrengen van je aura energetische voetafdruk is belangrijk, maar uiteraard is dit niet zo eenvoudig als het schrijven ervan. Het zingen van de mantra OM tijdens het produceren wordt ook gebruikt om mijn orgonite te bezielen met een vibrationele inprenting.
Orgonite Heart  Shine  with beeswax, take a piece of Art Energy at home.