Description
Kunst Harten Piramide Orgonite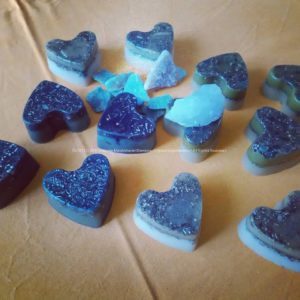 VERZENDING VANUIT NEDERLAND  – SHIPPING FROM  HOLLAND
Kunst Harten Piramide Orgonite 24 cm ( Art Hearts ), is a pyramid orgonite of 24 cm side, done with many many orgonite hearts forming its structure, anyone having it's quartz inside. But more of this, Kunst Harten Piramide Orgonite 24 cm is done using a quartz as top of the pyramid, and a piece of rare datolite in the center. Pieces of green avventurina finished the work.
About meanings of minerals, you can check on other products descriptions in this site, or just search on google, bing, or some other search engine.
Kunst Harten Piramide Orgonite 24 cm is a nice pyramid, that contain at all 20 minerals, including a crystal, most quartz, and other then be a nice art opera to keep in your home, is a very powerful effective orgonite.
Follow gallery of pictures. I want remember you, we send everywhere.
Mijn Orgonite wordt geproduceerd volgens verschillende principes, meer dan op basis van het wetenschappelijk werk van Wilhelm Reich. Ook zijn er deze die verband houden met holistische en wetenschappelijke disciplines die nog steeds niet officieel erkend zijn. Allereerst aromatherapie. Het gebruik van bijenwas, dat wordt gedaan van etherische oliën maakt mijn orgonite zeer geurend, vooral wanneer het wordt gebruikt voor meditatie en wanneer je het wast met koud water en zeep. Ten tweede kleurentherapie. Mijn orgonite hebben kenmerken als stenen, geuren en kleuren. Dit verwijst naar orgonite in alle categorieën, behalve de piramides die uniek zijn. De piramides hebben een verscheidenheid van kleuren, waardoor u de keuze kunt maken van de kleuren die meer geschikt zijn voor uw behoeften, affiniteiten en aura kleuren. Ten derde het gebruik van radionica voor beide vormen door interne dispositie van mineralen en metalen en uiteraard met de vorm van intentie tijdens de fase van verwezenlijking. Zelfs het inbrengen van je aura energetische voetafdruk is belangrijk, maar uiteraard is dit niet zo eenvoudig als het schrijven ervan. Het zingen van de mantra OM tijdens het produceren wordt ook gebruikt om mijn orgonite te bezielen met een vibrationele inprenting.