Description
Orgonite Harten Reiki Set v2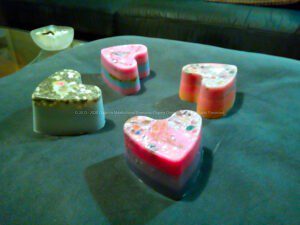 Orgonite Harten Reiki Set v2, is done using 4 different minerals, for 4 kinds of orgonite hearts, ever done using beeswax and not plastic synthetic and toxic substances, like epoxy resin and that kind of stuff.
Orgonite Harten Reiki Set v2 are unique sets, only 8, and anyone is different form the others. In the gallery you can see pictures of all fur kinds.
I don't want waste too many words to made the description long enough for the search engines, just look at the images, my work is not only natural orgonite, but also art.
You can find on google or another search engine description of minerals, searching with keyword "meaning" after the mineral name, here i used amethyst quartz, rose quartz, yellow quartz, and azurite.
You can put your hearts everywhere you want, specially closest to your bed, and to your desktop of work, to enjoy the positive energy and nice ambient they create.
Is possible use they also for a powerful crystal therapy, or other therapies as Reiki. Is surely a nice gift to do to someone you care.
Shipping of Orgonite Harten Reiki Kit will be free for Holland, Germany and Belgium.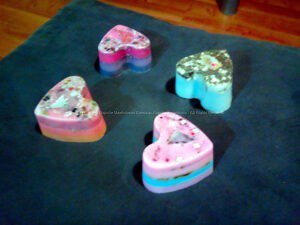 Mijn Orgonite wordt geproduceerd volgens verschillende principes, meer dan op basis van het wetenschappelijk werk van Wilhelm Reich. Ook zijn er deze die verband houden met holistische en wetenschappelijke disciplines die nog steeds niet officieel erkend zijn. Allereerst aromatherapie. Het gebruik van bijenwas, dat wordt gedaan van etherische oliën maakt mijn orgonite zeer geurend, vooral wanneer het wordt gebruikt voor meditatie en wanneer je het wast met koud water en zeep. Ten tweede kleurentherapie. Mijn orgonite hebben kenmerken als stenen, geuren en kleuren. Dit verwijst naar orgonite in alle categorieën, behalve de piramides die uniek zijn. De piramides hebben een verscheidenheid van kleuren, waardoor u de keuze kunt maken van de kleuren die meer geschikt zijn voor uw behoeften, affiniteiten en aura kleuren. Ten derde het gebruik van radionica voor beide vormen door interne dispositie van mineralen en metalen en uiteraard met de vorm van intentie tijdens de fase van verwezenlijking. Zelfs het inbrengen van je aura energetische voetafdruk is belangrijk, maar uiteraard is dit niet zo eenvoudig als het schrijven ervan. Het zingen van de mantra OM tijdens het produceren wordt ook gebruikt om mijn orgonite te bezielen met een vibrationele inprenting.
Our main site https://orgonite-mareksheran.com
Other information in English https://beeswax-orgone.com
Blog in Italian https://orgonite-naturale.blogspot.it
My Twitter page  https://twitter.com/MarekSheran
Our official facebook page https://facebook.com/orgonitemareksheran
Marco Matteucci aka Marek Sheran
Video of the old set of hearts :