Description
Pyramid Orgonite 11-11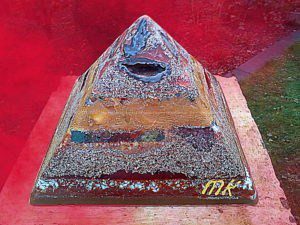 EXPEDITION FROM HOLLAND – SHIPPING FROM NETHERLANDS
Pyramid Orgonite  11-11 has been done the eleven november of 2014, for this the name.
Pyramid Orgonite 11-11 is a very rich pyramid orgonite, done with several geods and amethyst quartz. You can see the geods from outside, on all the high half part.
Pyramid Orgonite 11-11 is what you think is, 11-11.
AMETHYST QUARTZ
The  Top and engine of Pyramid Orgonite 11-11.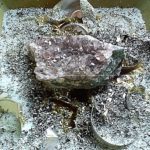 Amethyst Physical Healing Energy
Amethyst boosts the production of hormones, and stimulates the sympathetic nervous system and endocrine glands to optimum performance. It supports oxygenation in the blood, and aids in treatments of the digestive tract, heart, stomach, and skin. Amethyst also strengthens the immune system and reduces bruising, pain and swellings. It has been used with excellent results as an elixir in the treatment of arthritis. [Melody, 111][Hall, 55][Gienger, 13]
Amethyst is thought to relieve the symptoms of tinnitus and other hearing disorders, and is highly beneficial in treating insomnia, especially when caused by an overactive mind. It is calming and soothing to the neural impulses in the brain. Its energy ameliorates the pain of headaches and migraines, and reduces stress and nervous tension. It may be used to treat psychic disturbances and to stabilize brain imbalances, but should not be used in cases of paranoia or schizophrenia. [Hall, 54-55][Melody, 111][Megemont, 25][Ahsian, 30]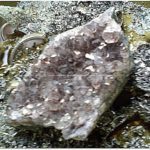 Amethyst Emotional Healing Energy
Amethyst is especially supportive of the emotional body, bringing those who are overworked, overstressed, or overwhelmed back to center. It eases the mental anxieties that lead to physical tension and headaches, and is a great crystal to calm those who tend to be hot-headed and easily angered. [Raphaell, 80][Gienger, 13]
Amethyst helps in identifying the root causes behind one's negative behaviors, habits and emotional patterns that create imbalance and disease. It also helps one understand the reality of cause and effect in behavior, and assists in better decision making. Amethyst is a marvelous aid in overcoming addictions by counteracting the effects of drugs and alcohol on brain function, while imparting its own peaceful sustaining energy. [Ahsian, 29][Hall, 54]
Because Amethyst initiates wisdom and greater understanding, it is a comforting crystal for those grieving the loss of a loved one. Its presence communicates that there is no death, only transitioning and changing of forms. It encourages the release of sorrow, and rejoicing in a loved one's spirit being freed from the confinement of the physical body. Called "the soul stone," Amethyst assists in understanding and connecting to the eternal existence of the soul and initiates one's own deep soul experiences. It is an ideal crystal to hold or meditate upon during the death experience, of another or oneself, allowing the release of the temporal physical body with more ease, assuredness and peace. It is a perfect stone to gift to those with terminal illnesses or to use in preparation for a conscious death experience. [Raphaell, 80][Gienger, 13]
Amethyst Chakra Healing and Balancing Energy
Amethyst carries a high, sweet energy, particularly stimulating to the Third Eye, Crown and Etheric Chakras. [Ahsian, 29]
The Brow Chakra, also called the Third Eye, is the center of our perception and command. It directs our sight and everyday awareness of the world. Our consciousness is located here, and we relate to ourselves through this chakra. When the Brow Chakra is in balance our thoughts and internal communications within ourselves are healthy and vibrant. We are open to new ideas, dreams, and visions, and can control the flow of energy within all the chakras. The dark blue/purple crystals of indigo are used to treat imbalances of the Brow Chakra. It is a quiet color, one of mystery and wisdom and judgment.
The Crown Chakra is located at the top of the head, and is our gateway to the expanded universe beyond our bodies. It controls how we think, and how we respond to the world around us. It is the fountainhead of our beliefs and the source of our spirituality. It connects us to the higher planes of existence and is the source of universal energy and truth. When the Crown is in balance, our energies are in balance. We know our place in the universe and see things as they are. We are unruffled by setbacks, knowing they are an essential part of life. Imbalances of the Crown Chakra are treated with Light Violet crystals. Their violet rays have the universal life force of magic, dreams, inspiration, and destiny.
The higher vibrational White and Lavender/White crystals are associated with the Higher Crown, Soul Star and Stellar Gateway Chakras. They are attuned to higher, more spiritually enlightened things, and embody true humility. They provide a soul connection and the highest self-illumination, as well as a cosmic doorway to other worlds. [Hall II, 366] They represent personal identification with the Infinite, and oneness with God, peace and wisdom. [Raphell, 164]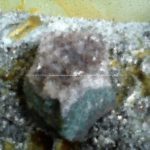 Amethyst Spiritual Energy
Amethyst carries a high spiritual vibration of humility and devotion to the Divine. It is highly conducive to stilling one's thoughts in prayer and meditation, and surrendering to that which is greater than the self. Amethyst also stimulates the higher mind to receive one's spiritual power as a creation of the Divine being and to open to the insights, wisdom and guidance that is offered. [Ahsian, 29][Raphaell, 79][Hall, 54]
Amethyst is a stone of spiritual protection and purification, cleansing one's energy field of negative influences and attachments, and creating a resonant shield of spiritual Light around the body. It acts as a barrier against lower energies, psychic attack, geopathic stress and unhealthy environments. It is a valuable protection for those doing psychic or intuitive work, and enhances personal environments with a healing and protective circle of Light. [Simmons, 28][Ahsian, 29][Hall, 54]
Amethyst Color Energy
Amethyst embodies the red-violet ray that connects both time and color, of beginnings and endings, as the old year wanes and the new is about to arrive. It tempers the fiery red ray with the intuition of the violet ray, bringing passion and imagination, emotion and logic. It stimulates creativity and is particularly helpful in artistic endeavors. Light Amethyst helps us peer into our souls and see ourselves as others see us. It is the ray of self-esteem and self-knowledge. Dark Amethyst gives us the deep vision needed to see the future. It gives us powerful insight and enhances our perception of the potential effects of our decisions.
Meditation with Amethyst
Amethyst is one of the best crystals for meditation. The amethyst color stimulates the highest vibration of the Third Eye, and placing an Amethyst stone directly over this area ushers in a serene meditative state that stills conscious thought and guides the mind toward deeper understanding. Amethyst energy encourages the mind to be humble and surrender to that which is greater than itself in order to gain some understanding of how the powers of the universe can direct and guide one's life. [Raphaell, 78-79]
To relax the system and increase awareness, hold single Amethyst crystals or small clusters in the left hand (termination towards the arm) during meditation to draw Amethyst energy into the body. Large clusters of Amethyst are ideal for meditation altars or as concentration objects to train the mind to be centered and calm while awareness is focused on the objective world. [Raphaell, 81]
Amethyst may be used to occupy the North-East point on a crystal medicine wheel, used for healing and balancing one's life. The north-east is the place of choices and meditating in this direction facilitates the decision-making process, bringing in spiritual guidance, common sense and realistic goals. It encourages new ideas and relates cause with effect. It also balances out highs and lows for emotional and spiritual centering. [Hall II, 373]
Amethyst Divination
The Divinatory meaning of Amethyst: I do not need to reward myself any excesses of any kind to feel good. [Eason, 212]
Dreaming of Amethyst signifies freedom from harm. [Kunz, 358]
Amethyst and the Angelic Realm
The beautiful purple Light of Amethyst is particularly conducive to communion with angels. [Ahsian, 29] It ranges in color from pale red-violet (amethyst color) to deep violet. If your birthday falls in any of the following periods, an Amethyst of the color listed can be a valuable conduit to your Guardian Angel. The table also provides the name of the Guardian Angel of those born in the time period.
More information about Amethyst  quartz at  http://www.crystalvaults.com/crystal-encyclopedia/amethyst
Pyramid Orgonite 11-11  have a big amethyst  quartz as top.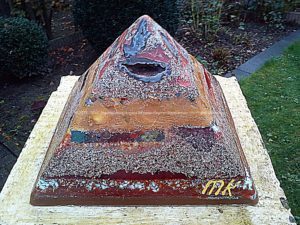 Pyramid Orgonite 11-11  is  a very powerful orgonite pyramid.
Mijn Orgonite wordt geproduceerd volgens verschillende principes, meer dan op basis van het wetenschappelijk werk van Wilhelm Reich. Ook zijn er deze die verband houden met holistische en wetenschappelijke disciplines die nog steeds niet officieel erkend zijn. Allereerst aromatherapie. Het gebruik van bijenwas, dat wordt gedaan van etherische oliën maakt mijn orgonite zeer geurend, vooral wanneer het wordt gebruikt voor meditatie en wanneer je het wast met koud water en zeep. Ten tweede kleurentherapie. Mijn orgonite hebben kenmerken als stenen, geuren en kleuren. Dit verwijst naar orgonite in alle categorieën, behalve de piramides die uniek zijn. De piramides hebben een verscheidenheid van kleuren, waardoor u de keuze kunt maken van de kleuren die meer geschikt zijn voor uw behoeften, affiniteiten en aura kleuren. Ten derde het gebruik van radionica voor beide vormen door interne dispositie van mineralen en metalen en uiteraard met de vorm van intentie tijdens de fase van verwezenlijking. Zelfs het inbrengen van je aura energetische voetafdruk is belangrijk, maar uiteraard is dit niet zo eenvoudig als het schrijven ervan. Het zingen van de mantra OM tijdens het produceren wordt ook gebruikt om mijn orgonite te bezielen met een vibrationele inprenting.